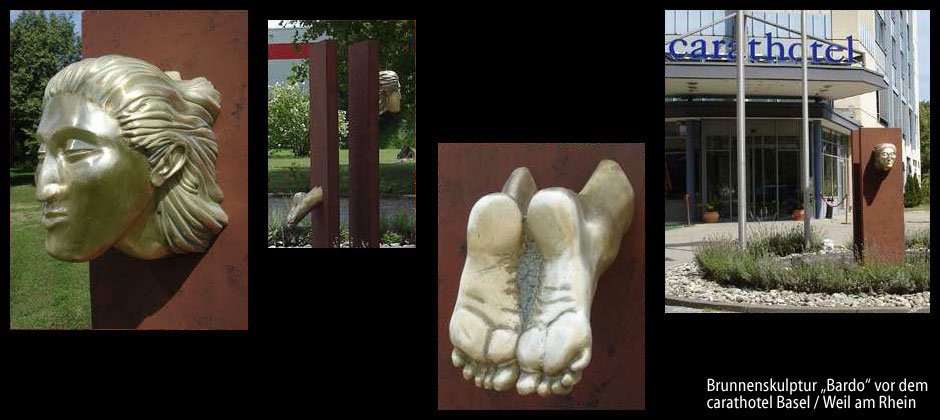 Brunnenskulptur "Bardo"
Bardo – a two-metre-tall metal sculpture made of corten steel and brass by Armin Brombacher

The first sculpture in the "Skulpturenpark Basel / Weil am Rhein" (Sculpture Park Basel / Weil am Rhein) is the fountain sculpture "Bardo" in the fountain in front of the hotel entrance. The sculpture consist of two steel steles that are mounted parallel in a distance of 25 cm.  On the front of the first stele, a head is mounted at a height of 1.7 m, while the back of the second stele features a pair of feet.  Between the two steles water fountains are bubbling.

Material

The steles are made of raw steel which corrodes through the weather and the fountain water. Over time, the colour will change from black over grey/black, black/brown to a bright rust-red. Head and feet of the sculpture are formed from patina brass. Here, the passing of time will also lead to a colour change from gold over honey-coloured to green/turquoise through natural corrosion.

Thoughts

In its shape the sculpture resembles a figurehead.  Its composition of two pieces that are linked by the water symbolises a transition: everything is changing, everything is "in flow". This thought of change is reinforced by the natural corrosion that, over time, will leave its own marks on the sculpture.

Bardo shows the concepts of leaving on the one side and of arriving on the other side. And thus also the crossing of a boundary. There are clear boundaries, uncomfortable boundaries, invisible and flowing boundaries. Here, it is a flowing and invisible line that is crossed.

The sculpture beckons to stop, to walk around it and to alter one´s viewpoint and perspective – and maybe not only physically – as, depending on the viewpoint of the beholder, Bardo is obviously not showing everything. A lot cannot be seen directly.

Bardo is Tibetan and means "intermediate state".