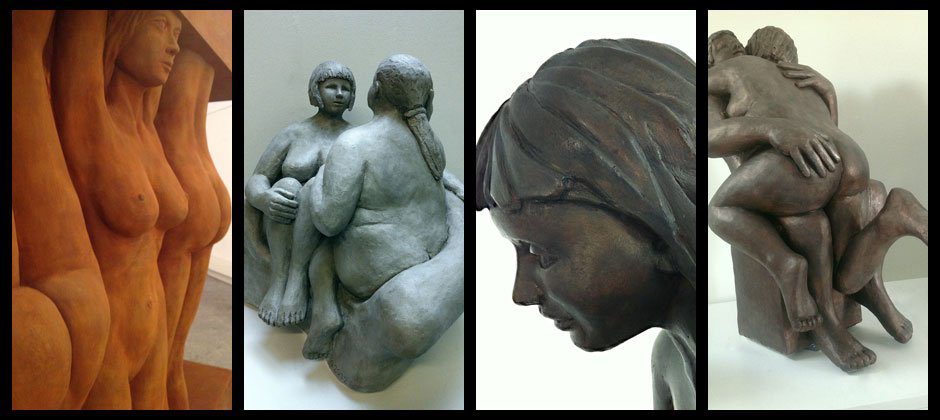 Christina Räber
Christina Räber and how she became an artist:

A light pressure from my hands and the clay changed its form from a machine-moulded, pure and smooth square block into an indefinable something.

Back then on this evening in late summer 2006, I was not aware that this would be the beginning of a new life filled with creative enthusiasm and passion. I only tried to follow the instructions of the course instructor in the adult education seminar I was attending, in order to perform the task set to me on the subject of ArtSpace. To create. Art? Expression? To transfer internal energy into a work? These terms and concepts didn´t mean much to me as up to then I had never really been interested in the fine arts.

I chose the material clay simply because I found a pail of clay in the basement that must have remained from student´s work from primary school.

So, as I was sitting at the kitchen table, randomly squeezing the piece of clay in my hands, the thought of producing something "useless" seemed very foreign to me as I have always been a rather technical pragmatist. After some time, however, I could feel how my hands and the piece of clay were pushing away these rational thoughts and seemed to connect with my subconsciousness. I felt the consistency and the properties of the clay, its flexibility, how it changed from wet to moist, from gooey to smooth, from cool to lukewarm, smelt its elemental smell, I felt its plasticity in every single finger, the heel of my hands and both palms. I felt an energy that seemed to be flowing from the centre of my body right into the fingertips, and from that moment I no longer knew what was really happening. Amazed, I watched as my hands were squeezing and kneading, stroking and forming and – thus – were creating a human being that was suddenly sitting in front of me on the table. This human being was sitting there as if I had given birth to him. I touched and formed it again and the human being turned into a woman and, out of breath and amazed, I tried to let this woman express what I felt at that moment – passion, happiness and love. I had created a human being, my human being. From that moment, I knew that I was carrying an incredibly huge gift in me. And I hadn´t known it for such a long time.

This was the beginning of my artistry. That very night, I formed further fifteen human beings and filled my whole kitchen with them as I simply couldn´t stop.

Shortly afterwards, I joined a course in sculptural design under the direction of sculptor Al'Leu in Zurich, in order to learn the fundamentals and the technical know-how of the art of sculpture. I was introduced to sculptural techniques like the modelling of clay and plaster, how to make plaster and concrete castings and how to sculpture with natural stone.

I learned the necessary techniques to create polyester sculptures in a company that works in polymer processing, and how to work and create art with wood in wood-carving courses.

Since 2011, I am working full-time as a sculptor/carver in my atelier in Hindelbank, Canton of Bern, Switzerland. The focus of my work lies on humans, their bodies, their body language and the strong relations to other humans, but also to animals. I work with mental images and do not use models.

Background: Born in 1954, trained as primary school teacher, worked in a primary school for many years, lives in Koppigen, Canton of Bern, Switzerland.
Exhibitions: Solo exhibition in the "Müllerhaus" in Lenzburg in 2012 and participation in the Arte Binningen 2012.
Award: Art criticism award for sculptures 2012, awarded by the Arte Binningen.

Contact:

Christina Räber
Bildhauerin/Plastikerin
Atelier Oeleweg 1, 3324 Hindelbank, Schweiz
Mobile: 0041 79 728 56 32
Email: christina@raeber.org