Kunstausstellung "caratart Episode 1"
Work by young, innovative artists cheek by jowl with artists of international renown: We have made it our mission to facilitate networking between talented young artists and their more established colleagues within the framework of our pioneering mentoring programme. Witness this exciting process.

At the exhibition "caratart Episode 1," high potentials and internationally renowned artists will show their newest and best work on the ten storeys of the international carathotel Basel in Weil am Rhein.

When: After the exhibition of the originals ends on June 19th, 2011, we will show reproductions of the works on display for a further year.

Where: carathotel Basel / Weil am Rhein, Alte Strasse 58, 79576 Weil am Rhein, Germany www.carat-hotel-basel.de
Exhibition opening
The exhibition opening on June 14th will be flanked by an impressive light and music installation. "Vision & Sounds" will feature the premiere of a unique performance. More information on the event is available here >>.

The event will afford visitors a rich sensory experience and will lay down markers ahead of Art Basel, which kicks off shortly afterwards. Meet movers and shakers, decision-makers and creative young minds from the free arts scene, and find out more about caratart's mentoring programme.
Participants: Mentors & artists: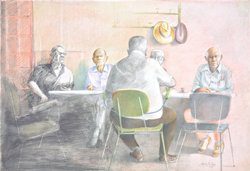 Like many artists, Stefan Beltzig is drawn to places that are undergoing processes of transformation and radical change. In his most current cycle, "Palma," Beltzig dedicates himself to the final results of a process of transformation which has been on-going for centuries in an old Mediterranean town. His portrayals of old men in Spanish cafés give viewers a sense of belonging to a closed community and, at the same time, manage to hint that this way of life will not only end with the death of the men in the pictures; it is likely to be condemned even before then, as the fast pace of life outside gradually imposes itself on the life of the village.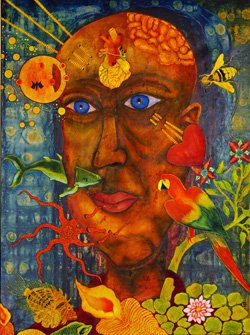 Each of Bombolo's pictures expresses a personality which can hardly be imagined as being even more self-contained. Some observers may come close to gaining the impression that the series of self-portraits showing the many aspects and different facets of the person Bombolo is infinite.

Hendoc's objects from his ei-che.de project – "Eiche" ist the German word for oak – pay homage to nature powerfully, in the form of archetypal seats. Seemingly hard, the "sit balls" nestle charmingly against the posteriors of all who try them.

The photographer Werner Pawlok is celebrated internationally for his photography paintings. Pawlok's cycles of images "Dantes Commedia" and "Dantes Commedia II" take their places in a prominent gallery of images inspired by the most significant work of Italian literature. But Pawlok does not illustrate the selected cantos; the visionary visual metaphors he has created respond to Dante's verses with resolute gestures, but still develop their own vocabulary.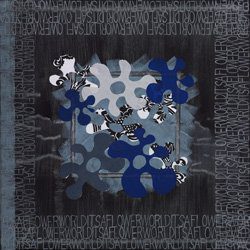 The Basel artist Christine Battaglia-Zumstein concerns herself with thoughts of becoming, blossoming and decline in her image cycle "it's a flowersworld." Each of these phases has something fascinating, unique and ultimately ephemeral about it. The cycle shows the artist's personal response to events in the media and the world.

This exploration of Baroque painting and its particular atmospheric character forms an exciting contrast to the early work of Andreas Beck. Although the works belonging to the cycle seem abstract at first sight, the titles of the pictures are, at turns, ironic, cynical, lyrical, poetic and absurd. They are intended to evoke mild confusion, to form a meta-construct which stems itself against the first superficial glance of viewers. The titles attempt to draw visitors into the pictures, make them laugh, wonder – and reflect.

The Frankfurt artist Nicolaj Dudek works expertly with a range of materials: charcoal, crayons, graphite pencils and watercolours on paper and punch cards. He applies gouache to magazine pages. And, as the works in the exhibition reveal, a stapler to walls, gypsum plasterboard, and wood.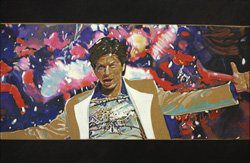 Tanja M Ernst has concerned herself with the topic of home and homelands since 2002 (Visits to 17 local history and outdoor heritage museums in Germany, France, Spain and the US in the years 1998 – 2004). She is interested in tracing the development of the theme in German society. Her project "Innocence in Eden" attempts to show how a small group of German fans, a "small eccentric family," has found a home in Indian films.

Hannah Feigl creates portrait interpretations that are both associative and true-to-life and have the power to transpose private and intimate characteristics of her subjects from the trivial unconsciousness of daily life into the protected space created by art.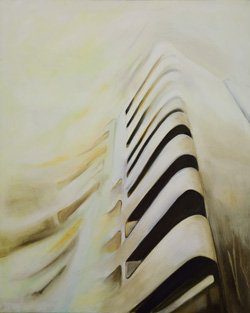 Opposites attract. And in the case of Natalie Goller and Helge Steinmann a.k.a. Bomber, this artistic symbiosis gives rise to wonderful teamwork, bringing Goller's paintings together with elements of Bomber's graffiti. After completing her studies in Stuttgart, Goller settled in the Frankfurt metropolis. She presents this concrete home under a new light and allows the observer a glimpse behind the façades. Any attempt to find people in her paintings would be in vain. Although Helge Steinmann's graffiti adds brighter shades to the canvas, political and sociocritical unease are still lurking between the colours.

Like his mentor, Werner Pawlok, Till Krautkrämer is a photographer, although his work could better be descibed as conceptual art. His "Meatwater – Dinner in a bottle" project, which satirises the 21st century consumer, is bearing odd fruits – particularly in the USA, where Krautkrämer has been living since 1996.




Dmitri Krenzer's work is characterised by its simplicity. Krenzer's pictures, mainly in acrylic, appear to be well thought through, in line with what we have grown to expect from concrete art. At a first glance, his works are nothing more than an austere series of dotted rows. A closer look provides the observer with an artistic world containing elements of space, time and transience.

Guido Michl is exhibiting a small retrospective of pencil and crayon drawings that give an insight into his areas of work: figurative art, portraiture, interior art and morphing (a technique that transforms the figure portrayed, ie. by background and clothing, but which ignores the actual person).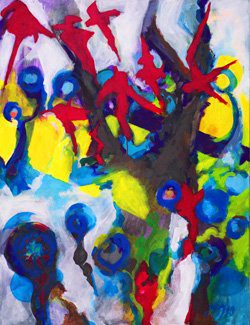 Forest and water – two themes that are the focus of Mike Prinz's aptly named current collection, "Waterforests" (Seewälder). Even though nature is the theme here, the single elements and groups of trees come across as figures that are portrayed differently within each scene, together with their strange reflections in water. The figurative style that was the strong focus of an earlier creative period has clearly – and intentionally – crept into the landscapes of recent years. Apart from the sometimes morbid-looking forests and tree trunks that populate the artist's pictures, the expressionist colours also lend the works a very distinctive style.

Stefan Stichler's large-sized paintings are personal and strongly expressionistic interpretations of his sentimental universe and thoughts. Having grown up in Frankfurt with punk rock, skateboarding and the creative underground power of the 80s, he allows nothing to cramp his artistic style. Neither the bounds of decency, nor the principles of society – not even the edge of the paper or canvas.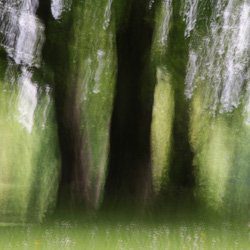 The realistic painting style of Gabriele Strehlau leads the observer and artist into a false sense of security, with her work telling an easily recognisable tale. However, the artist refuses to admit to this single perceived interpretation. The tales she tells with her pictures remain in the eye of the beholder, intending to be subliminally arousing and encouraging associations.

If the observer views Tom Zilker's light paintings from a great enough distance, it it hard to tell whether his pictures are photographs or impressionist paintings. Zilker's works interpret naturally occurring objects, which he accentuates, transforms and blends together using available light sources, bringing the subject's essential character to the forefront.

The sculptress, Maritta Winter's abstract modern sculptures are dominated by curved forms that are evocative of nature's generosity, a body's sensuality and the motion of a dance. Her work is an expression of both tenderness and strength.
Exhibition catalogue
[issuu layout=http%3A%2F%2Fskin.issuu.com%2Fv%2Flight%2Flayout.xml showflipbtn=true documentid=110612171241-caf11d1b5ab54eee99d62addde900af5 docname=kunst-ausstellung-katalog-caratart-episode-1 username=caratart loadinginfotext=Ausstellungskatalog%20caratart%20Episode%201 showhtmllink=true tag=art width=940 height=610 unit=px]

Download exhibition catalogue

You are able to download the exhibition catalogue as a pdf file here: Catalogue caratart Episode 1 >>