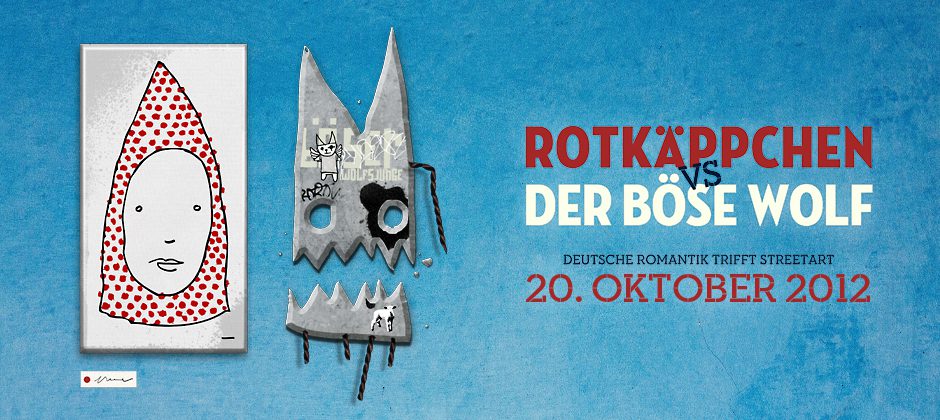 Vernissage Event: Lange Nacht der Münchner Museen
"Little Red Riding Hood v. The Big Bad Wolf – German Romanticism Meets Street Art"
Participation in the Long Night of Museums Munich
The Long Night of Museums Munich will be held on 20th October 2012 from 7 pm to 2 am. caratart e.V., the art foundation, is taking part in this fantastic cultural event in Munich with a private showing of "Little Red Riding Hood v. The Big Bad Wolf – German Romanticism Meets Street Art" as part of the "caratart Episode 2" exhibition.

In store is an extraordinary art event, in which traditional painting by contemporary artists meets creative set design and a street art live performance with Munich graffiti artists. Experience the many facets of young modern art presented and sponsored by the Munich art foundation, caratart e.V. Refreshments for our visitors will be available in the enchanted fairytale forest.
Programme
Little Red Riding Hood – set design loosely based on the work of Joachim Ringelnatz
The set design and costume class at the Academy of Fine Arts in Munich will be staging the tale of Little Red Riding Hood by Joachim Ringelnatz in 6 windows of the hotelmüller München under the guidance of Professor Katrin Brack and caratart mentor, Roland Olbeter.
The Big Bad Wolf – Street Art Live Performance
The underground garage of the neighbouring carathotel München will be transformed live into a graffiti fairytale landscape by the Munich graffiti artists Loomit and Lawone together with students from Munich's Pestalozzi School, a secondary school specialising in music. The spray artists will work on the concept over the summer with the students and then implement it right in front of the audience's eyes. Be there as a fabulous and lasting work of art comes into being – live and in colour!

As a one-off in Germany, glass carver Marco Rietz will be demonstrating his skills live on this evening too.
"caratart Episode 2" Art Exhibition
Almost every contemporary artist moves between the two extremes of Little Red Riding Hood and the Big Bad Wolf, in other words combines traditional techniques with modern influences. Each of them, of course, in his or her own particular way.

The "caratart Episode 2" exhibition brings together ten stylistically highly individual contemporary artists in the public rooms of Munich's hotelmüller and carathotel. More information on the exhibition can be found here >>
Fairytale Forest in the Courtyard
The hotelmüller München courtyard will become a fabulous, illuminated fairytale forest where Little Red Riding Hood and the Big Bad Wolf will meet for a cosy get together; refreshments are supplied (and Grandmama will remain unharmed in the process)!

Drop in and experience this incomparable event during the Long Night of the Museums Munich (Sendlinger Tor stop).
Further links