A work of art and its history – Artists´ stories. Part 2: Mike Prinz´ "Kenterndes Boot" (Capsizing Boat)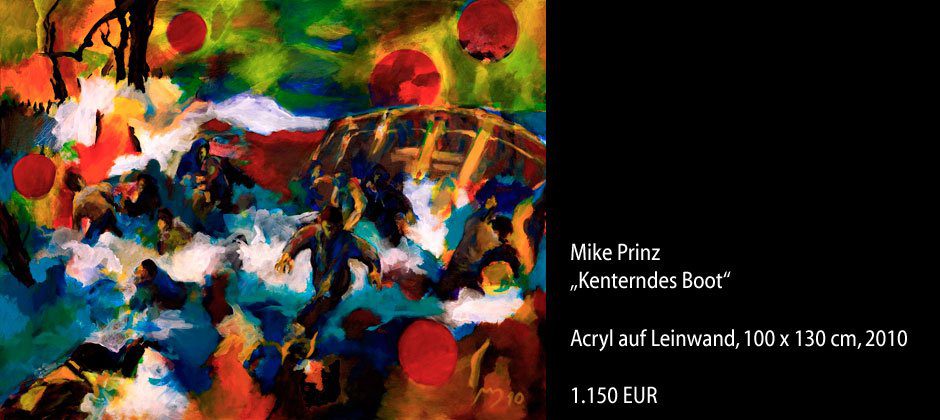 Today, we would like to introduce the artist Mike Prinz from Munich and his work of art, the painting "Kenterndes Boot".
A Portrait of the artist
FineArts-TV is introducing the artist Mike Prinz in an interview in this YouTube video. From a temporal perspective, the portrait of the artist falls into a creative period in which Mike Prinz is joining motifs of earlier periods into a new harmony.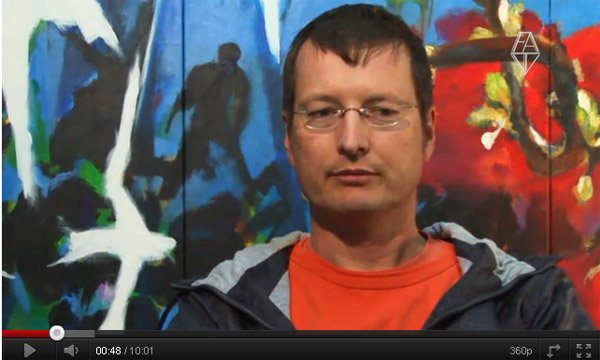 http://www.youtube.com/watch?v=2hX915Sziks
The following is an excerpt from the interview:
FineArts-TV: Mike, you have invited us into your studio again. You have further developed. Your paintings have different motifs now. Even though they are still featured, trees and branches that have always been very important in your work – and still are – have now faded more into the background.
Mike Prinz: Well yes, there was this period of the "Seewälder" (Lake Forests) in which trees sufficed as sole protagonists. It was a beautiful period in which I didn´t feel the need to draw any figures. But still, I really like to do it. For that reason, it was definitely necessary for me to work with different artworks again and I simply had to paint figures again. Absolutely true-to-detail, fastidious to the last detail or even just somewhere in the background, but my paintings definitely have to have persons in them again.
FineArts-TV: It´s safe to say that you haven´t rediscovered your love for people but rather welcome the technical challenge it poses.
Mike Prinz: Well, it´s neither of both. It simply is a pleasure to paint figures. At the very beginning, I couldn´t even imagine painting a piece without a figure in it. These times are over now as well. But it is simply important as you can express so much with a figure, the way you draw and paint it. The way it moves, the colours it is painted in, whether it is in the foreground or rather the background… There is a lot you can do with that. And if you add the influence of branches and trees from the last period, the result is a very harmonious painting.
FineArts-TV: And a lot of depth. Depth and perspective always play an important role in your paintings.
Mike Prinz: Yes, in my opinion this is a definite requirement. If you paint something there has to be a certain depth of field. Something in the foreground has to be painted in more detail and other things that are rather in the background can be painted in less detail, rather blurry or sketchy. If something is featured very prominently in the foreground and captures the attention almost exclusively, you paint it very extensively or so… I expect my paintings to result in a beautiful atmosphere, so that everything is included in them. Depth of field is certainly a part of that.
FineArts-TV: Mike, you often use photos or other elements as basis for your paintings. Do you still specifically go hunting for motifs for your paintings?
Mike Prinz: Yes, I still use photos. Either I take photos of persons or plants myself or I find any kind of artwork to use, wherever I can find it. I then take my inspiration from them and try to transport it into my paintings. These Artworks are very important for me.
FineArts-TV: You have introduced a new aspect into your paintings. Everyone can interpret the paintings differently and see in them what he or she likes, be it balls or bubbles, there are surreal influences in them. How did the wish develop to squeeze even more into your paintings?
Mike Prinz: Well, originally it started with a very specific form in one painting, in which girls are throwing balls into the air. In the next painting, which still featured the balls, it was different… I simply saw it as a form that was beautiful. In the painting with the girls throwing balls into the air you could also discover that it might have a second possible meaning. Something along the lines of expectations. After all, the title of the painting is "Himmel voller Erwartungen" (Sky full of Expectations). But I found it exciting to make further use of this symbolism in other paintings. But the birds that play a part in a symbolic way have also inspired me.
The complete interview can be found on YouTube. An earlier portrait of the artist which centres around the creative period of the "Seewälder" (Lake Forests) can be watched on http://www.youtube.com/watch?v=RbXdu7hUog4
Caption "Kenterndes Boot" (Capsizing Boat)
Mike Prinz introduces his work of art "Kenterndes Boot" (Capsizing Boat) in this video.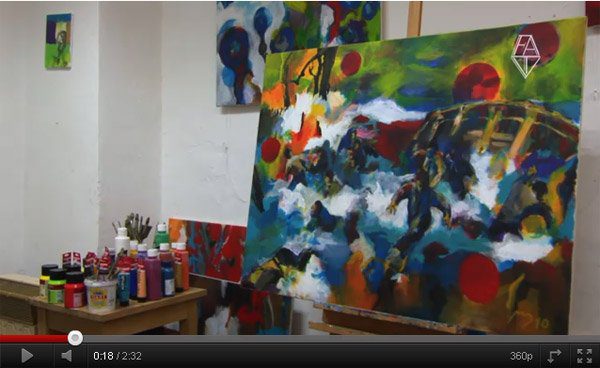 http://www.youtube.com/watch?v=W1Tc7P5uyhE
Mike Prinz: The original photo did indeed impress me. Its dynamic and the positive chaos in it. Unbelievable. It was like I didn´t have a choice, I had to paint it. The painting is also special in a different regard, as everyone can choose the dramatic force for himself. There are a number of persons in it which might already have made it to the shore or which might have stumbled in the course. The land is definitely already in sight and even though the sea is wild and an accident has happened, the shore and safety are already in sight, almost tangible. In this case, I also find it to be quite fitting that these bubbles or surreal balls are painted in such a transparent manner, so as to also appear as if they might be bursting. While some of them are also painted completely solid. It is definitely one of my favourite paintings. Which means I really enjoyed painting it. Painting it took so many hours and it also demanded so many different layers to bring forth this boat and the individual persons in it. And when you get closer to the painting and take a close look you can see in the details, different colours and shades that it consists of many different layers.
Further videos of Mike Prinz can be found on Mike Prinz´ YouTube channel on http://www.youtube.com/user/mikeprinzart
Here, on our website, you can find a short portrait of the artist and also further works of art by Mike Prinz which he introduced in our exhibition "caratart Episode 1".