We are part of it! caratart at the Lange Nacht der Münchner Museen (Long Night of Museums Munich)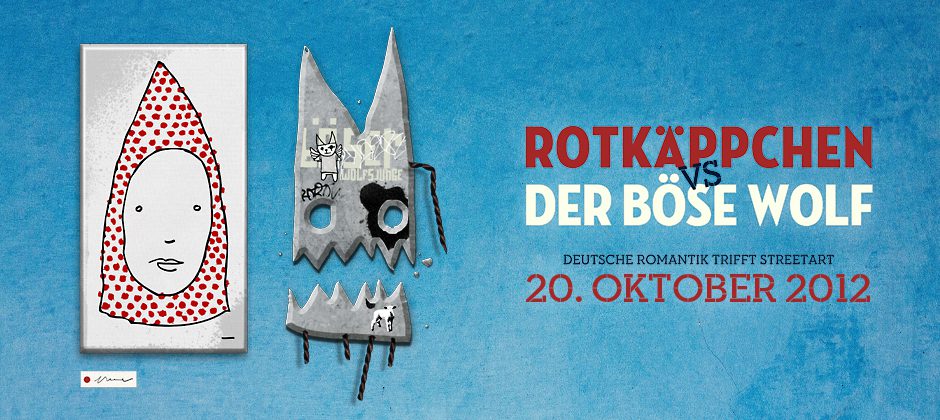 After the brilliant start with the vernissage "Vision & Sounds" at the art exhibition "caratart Episode 1" on the eve of the Art Basel last year, we wanted to throw something into the bargain this year. And by now, it already looks like we might achieve our goal.
We will be part of the programme at the Lange Nacht der Münchner Museen with "Rotkäppchen vs. Der böse Wolf – Deutsche Romantik trifft Streetart" ("Little Red Riding Hood vs. The Big Bad Wolf – German Romanticism meets Street Art ") and the exhibition "caratart Episode 2". The Long Night of Museums is a well-established institution in the cultural life of Munich and attracts around 20,000 fans of art and culture.
The programme "Rotkäppchen vs. Der böse Wolf – Deutsche Romantik trifft Streetart" is just as full of contrasts as the title suggests.  Six windows of the hotelmüller in Munich serve as exhibition space for students of the Akademie der Bildenden Künste München (Academy of Fine Arts Munich), who are showing their very own interpretations of the fairy tale Rotkäppchen (Little Red Riding Hood) in the version of Joachim Ringelnatz. The big bad wolf of modern art will be active in the underground car park of the carathotel Munich:  Graffiti artists from Munich will be performing live art.
Furthermore, twelve contemporary artists will exhibit their works in the public spaces of both hotels: Different styles and themes come together in all their facets and harmonise in an unique dialogue of art.
Meanwhile, the inner courtyard of the hotelmüller will become an enchanted forest labyrinth.  The perfect place to enjoy food and drink and talk about art or just soak up the surroundings.
The key information:
When? Lange Nacht der Münchner Museen, 20th October 2012, 7pm to 2am
Where? hotelmüller Munich (Fliegenstraße 4) and carathotel Munich (Lindwurmstraße 13), shuttle bus stop at Sendinger Tor