Die blaue Ziege (The Blue Goat) – An exhibition at the Kunstpavillon München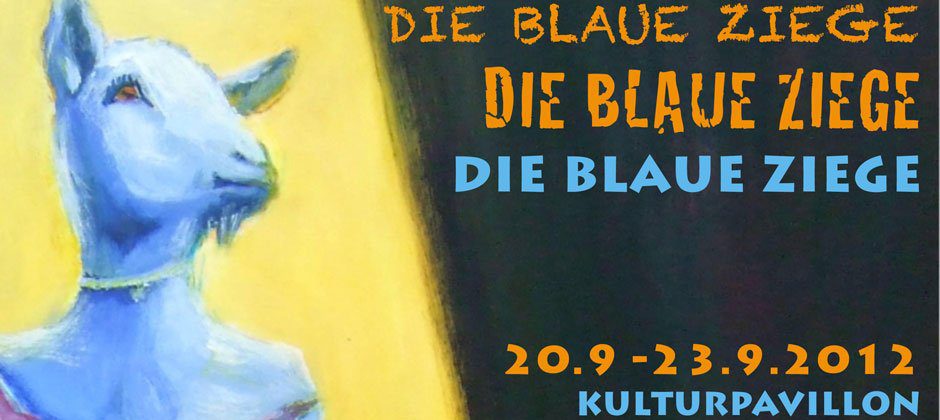 "To learn from goats means to achieve one´s goals."
Angela Eberhard – A.Beck – Mike Prinz – Gabi Strehlau – Bea Rautenberg – Ursula Singer – Guido Mich
Limits exist to be broken, styles to be abandoned and valuations to be leveraged.  To take art seriously with a twinkle in one´s eye and to create art that wants to be created, without regard to trends and authorities, is the real freedom. Mainstream and academy are ONE thing, we are the OTHER.
Seven artists – seven statements will be presented at the Kulturpavillon on the Romanplatz in Munich.  The whole range of figuration will be exhibited – from paintings to drawings and photographic art to statuary art.  A comprehensive show of artists from Munich who are linked by their expressive power.  The presented works are characterised by their energy and inwardness. Colours and forms are used to tell the story of the Comédie humaine: Love, Happiness, Loss and desire for freedom.
The exhibition has been put together incognito by a curator who is no stranger but doesn't want to be named.  She doesn´t give her name as "the art is all that matters" and thus confines herself to using the ironic alias "die blaue Ziege" (the blue goat) which, consequently, has also become the title of the show.
Art exhibition "Die blaue Ziege"
Kulturpavillon München, Arnulfstraße 294, 80636 München
20th to 23rd September 2012
Vernissage on Thursday, 20th September 2012: 5 pm to 10 pm
Further opening hours from Friday to Sunday: 11 am to 8 pm