A fairytale-like night: "Rotkäppchen vs. Der böse Wolf – Deutsche Romatik trifft Streetart" (Little Red Riding Hood vs. The Big Bad Wolf – German Romanticism meets Street Art) at the "Lange Nacht der Münchner Museen" (Long Night of Munich Museums)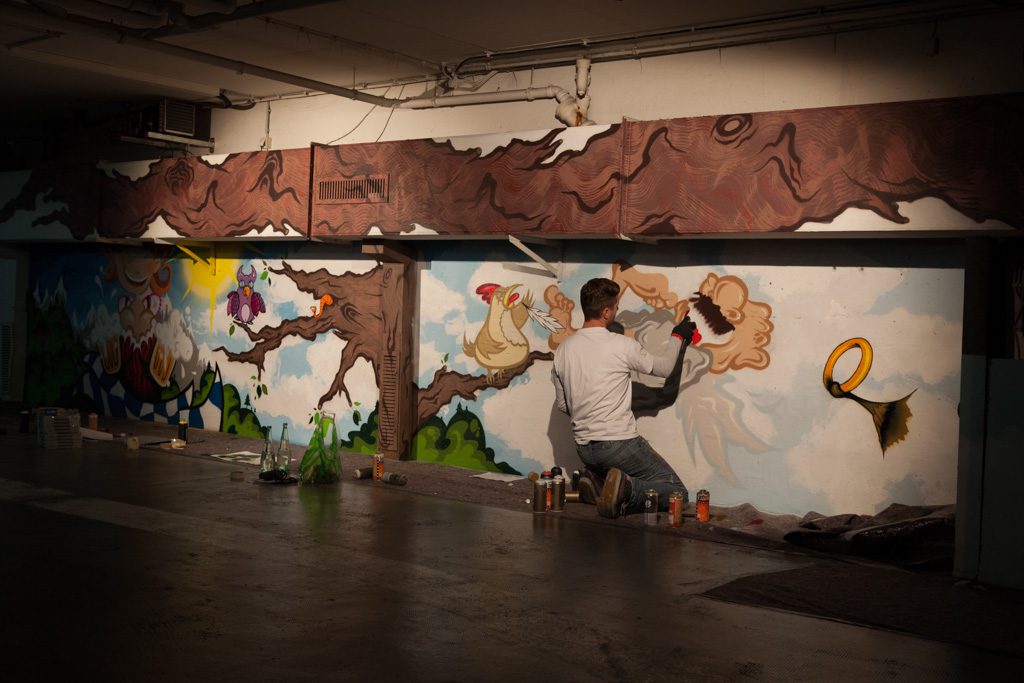 20 October, 2012, 7.00 pm, scene of the crime – Munich: A young lass from the Red-light district becomes the victim of the obscure scheming of her grandmother, a predatory pimp and a corrupt street warden. This is not a Saturday night crime film but the unconventional staging of Ringelnatz's Rotkäppchen in six windows of the hotelmüller München by students of the class stage design at the Akademie der Bildenden Künste München. The five-minute performance was performed on stage every 15 minutes and attracted many enthusiastic spectators during the whole "Long Night". Two young officers of the Munich police department also did not want to miss out on this event :)
>> Staging of Rotkäppchen (YouTube Video)
The production marked the beginning of the staged clash of cultures of "caratart Episode 2" and thus beckoned to go on a journey of discovery through modern art. While enjoying drinks and snacks in the inner courtyard of the hotel, guests were enabled by means of a video screen to gather a glimpse of the artistic diversity that still awaited them in the hotelmüller München and the carathotel München. More than 100 works of art by twelve contemporary artists waited to be discovered in the public spaces of these two hotels. Furthermore, the artists were available for discussion with interested visitors during the whole evening – and some of the attendants have certainly taken this opportunity to send artistic inspiration and academic knowledge on a long and philosophical journey together. Very exciting and inspiring for artists and visitors alike!
>> Time-lapse inner courtyard (YouTube Video)
The Street art Session in the underground car park of the carathotel München marked another highlight: The two great graffiti artists Loomit and LawOne from Munich were performing their art live with paint roller and spray cans and so allowed observers a glimpse into a branch of art that is slowly getting the respect and recognition it deserves. Visitors were able to experience at first hand how much precision and delicacy is needed to create a piece of street art.
That we have been able to make both the visitors of the events and the participating artists happy, is the biggest possible compliment for us as an art association. Almost 1,500 visitors experienced the exciting staging of "Rotkäppchen", discovered an inspiring art exhibition and paid a visit to the Big Bad Wolf of modern art in the underground car park – without being eaten alive…
A collection of the best photographs of the evening can be seen here. There is more on our Facebook page >>
Feedback from our artists:
"The activities of the Long Night in the carathotel and the hotelmüller were exciting and multifaceted, and with a lot of creativity and the personal effort of very many people the night turned into a little fairy tale. There was a lot of work behind everything and I would like to thank you and everybody involved very much for everything." Elis Hoymann
"Once again I would like to thank [you] for this great evening! I really appreciate your effort." Julie Keupen
"The reason for my writing to you is that I would like to thank you. I would like to thank you for the great effort and all the work that you and your team have put into the event last Saturday. I would also like to thank you for the enthusiasm, the creativeness, the great atmosphere, the reliable support, the beautiful catalogue and for conveying the feeling to the artists to be involved in something interesting and important. I really enjoyed the evening. I thought you should know that." Hanjo Schmidt
"I would like to take this opportunity to thank you for the great evening and the professional organisation. The evening was really insightful for me and through many personal discussions I have been able to understand which impression my paintings but also the works of others – and especially the works of the stage design class – have made on the many visitors." Katharina Schick
"I would like to thank you again for everything, it was impressive to me." Ursula Singer
"It was a great event. You managed to get Academia and the not-academic world together." Mike Prinz
Not only we, the artists and the visitors were impressed, the media also had a lot to say about the event. An overview of the reports can be found here>>
We are already looking forward to the "caratart Episode 3" now. Will we be able to better the spectacular event in Munich once again? We are really curious to find out…