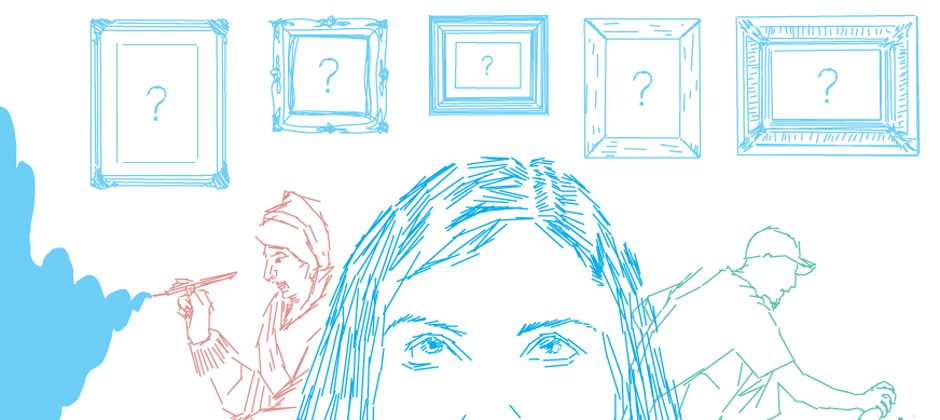 When first starting to develop an interest in art, there is an overwhelming abundance of impressions and trends. Over time, however, the eye is sharpened for what speaks to our innermost part and almost makes us physically attracted. One visits exhibitions, museums and vernissages, and strolls through galleries. Furthermore, the question needs answering, whether one is captured by contemporary art, the "jungen Wilden" (wild youth), classic modernism or the art before 1945 or if it is rather the important periods of earlier art history that make one happy.
A Guide though art …
Standard works like "DuMonts Geschichte der Kunst" (DuMonts history of art) or the voluminous "Propyläen Kunstgeschichte" (Propyläen history of art) provide an overview of the different art genres. There are several addresses that specialise on art books like the "Buchlounge", "Froelich & Kaufmann", "www.art-service.de", "www.arthouse.de", Medium-Books and the publisher "Taschen" in the area of illustrated books. Antiquarian and online bookshops are a good choice for exhibition catalogues. Once you have found your personal favourites, art magazines like "ART-Das Kunstmagazin", "Artist", "Jitter", "Junge Kunst", "Fotogeschichte", "Form & Zweck", "Monopol" or "Parnass" will – each in its own right – give you some orientation and stimulus.
… and the museum scene in Germany.
"DuMonts Schnellkurs durch die Museen Deutschlands" (DuMonts crash course through Germany´s museums) grants beginners easy access to one of the most extensive European art scenes. Apart from a number of top-class private collections, there are also many public museums. Their treasures in the form of exhibits in permanent and changing exhibitions on different themes can not only be found in the big cities of the country but also in the provinces. Berlin´s Museumsinsel (Museum Island) with the "Alte Nationalgalerie" and "Bode-Museum" is back to its old glory after the German reunification. Lovers of contemporary art definitely have to pay a visit to the "Neue Nationalgalerie". An impressive range of contemporary art, from classic modernism to the late 1970s, can be admired in the sensational building designed by the famous architect Mies van der Rohe. The focus lies on important art movements of the 20th century – expressionism, cubism, surrealism – and famous artists like Beckmann, Kirchner, Klee and Picasso. The "Hamburger Bahnhof" and "Dali" at the Potsdamer Platz are well worth seeing. The annual "ArtForum" always attracts an art-enthusiastic audience. Cities in the Rhineland like Cologne, Düsseldorf and Essen are real gems that impress with an abundance of galleries, exhibitions and museums. Cologne is known for its affinity for art and has the "Wallraf-Richartz-Museum", "Museum Ludwig" and "Rautenstrauch-Joest-Museum" to offer. Every year, the "Art Cologne" attracts the international art crowd. Major art museums can be found in the cities of Frankfurt (Schirn Kunsthalle, Frankfurter Kunstverein), Munich (Alte & Neue Pinakothek, Kunstverein), Dresden (Zwinger) and Hamburg (Deichtorhallen, Hamburger Kunsthalle). A broad range of public and private museums are dedicated to particular artists or themes.
Names you won´t forget
German art enjoys a worldwide reputation. No other European country can boast of such a diversity of internationally renowned contemporary artists. Throughout the world, works by Gerhard Richter sell for millions. Georg Baselitz, Sigmar Polke, Neo Rauch, Anselm Kiefer, Albert Oehlen, John Bock, Martin Kippenberger, Jonathan Meese, Hilla Becher and Wolfgang Tillmanns compete with American artists like Damian Hirst or Jackson Pollock. Nevertheless, there are amazing things to hear and see on vernissages of less well-known artists, when people argue whether art is something "independent" or simply "outdated" or whether a certain artist really has a central statement or simply gives free rein to his fantasy.