MMK – Museum for modern Art in Frankfurt am Main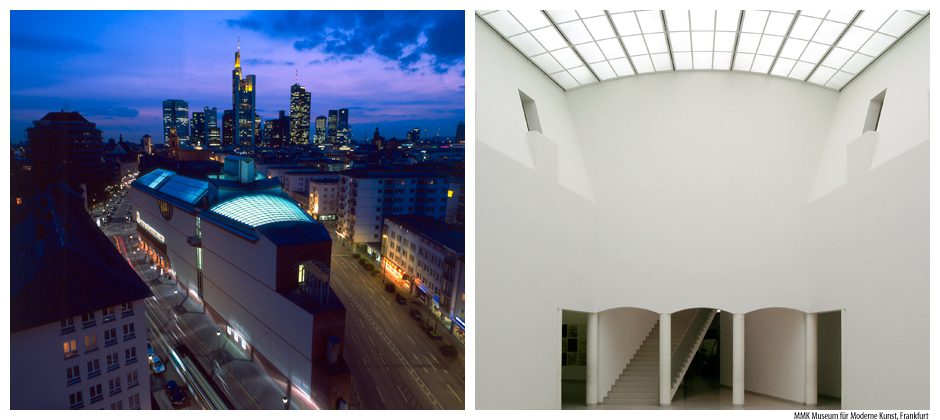 The MMK is one of the world's most important museums of contemporary art. The city of Frankfurt has shown vision and an astute sense for art when it purchased the Karl Ströher collection that had previously resided in Darmstadt, thus laying the foundation for its own museum of Contemporary Art in the early 1980s.
The core of the museum is made up by masterpieces from the 1960s by internationally renowned artists like Roy Lichtenstein, Andy Warhol, Dan Flavin, Joseph Beuys or Palermo that are attributed to American pop art and international minimalism. In 2006, parts of the Ricke collection from Cologne were added to the museum and thereby important examples of New York´s conceptual art scene and postminimalism.
A tour of the building offers an impressive and exciting retrospective of the history of the museum from the 1950s to today. Every name that has played a part in German and international contemporary art of these decades seems to be represented. National and international art from the fields of painting, sculpture, photography and video art are represented by more than 4500 exhibits and 440 artists and are complemented by projects from the fields of sound, light and performance art.
Photographs from the years between World War II and 1950 show a Frankfurt destroyed by bombs. With his work from the 1950s and 1960s, photographer Paul Almasy leads the beholder back into forgotten time and into scenes that remind of the vivid black and white pictures of Nouvelle Vague and appear almost like sculptures that are both fascinating and disturbing at the same time.
The art of the 1980s and 1990s is represented by artists that by then were considered to be avant-garde, but by now have become classics of contemporary art: Hilla Becher, Bruce Naumann, Gerhard Richter, Boetti, Beppler, and many more. The museum also features important artists of contemporary art from Frankfurt like Thomas Bayrle, Peter Roehr and Charlotte Poseneske.
It is the aim of the MMK not to stop its collection at a certain period but to always continue following art into the present. Thus, a special aura of authenticity is created. The art of the still young millennium – Hope, Teller, Tillmanns, Bayrle, Brandenburg, Boyce, Burns, Floyer, among others – mirrors the political, economic and social aspects of our present.
Time and again, new acquisitions are made possible by prudent museum politics. Among some of the most recent acquisitions are works from Walter de Maria (1969), Morris Louis (1960), Bernhard Johannes Blume (1960-1965) or Martin Kippenberger (1985), Dan Flavin (1990), Walter van Beirendonck (1995), Jürgen Teller (1997), Isa Genzken (2007), Cyprien Gaillard (2009) and Zinny Maidagan (2009).
History of contemporary art could not be more exciting.