Spectacular mirror of art and time – the Pinakothek der Moderne in Munich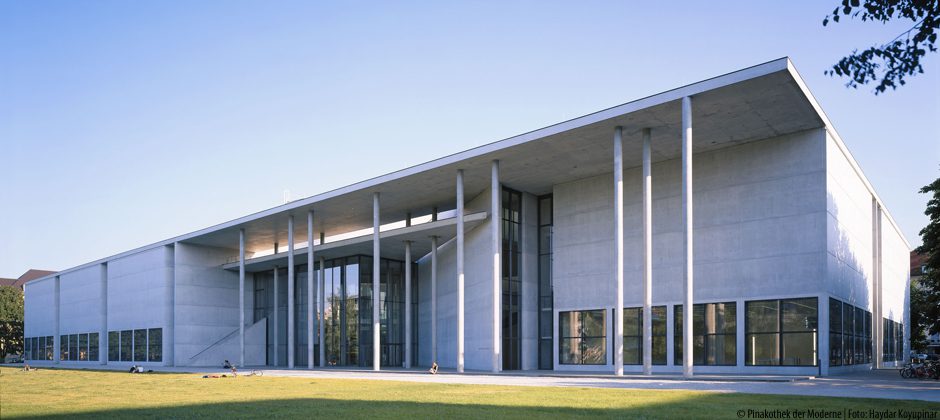 The Pinakothek der Moderne in Munich does not really conform to Bavarian tradition but rather to the innovative strength and diversity of the cosmopolitan city of Munich, thus fitting perfectly into the multifaceted museum scene of the city. The remarkable form of the building that was designed by Stephan Braunfels and is the home for art from the 20th century to today already counts as a work of art in itself.
On entering the building of the Pinakothek der Moderne that opened its doors in 2002, visitors step into a light-flooded and bright glass atrium. The design of the museum in the district Maxvorstadt in Munich impresses with its open floor plan and its modernity and hosts four museums under its contemporary roof. Several different areas of modern art are shown in a combination that is unique throughout the world. Among them are:
a comprehensive collection of modern art as part of the Bayrische Staatsgemäldesammlungen,
the International Design Museum Munich as state museum of applied arts,
the Architekturmuseum der Technischen Universität München,
and the Staatliche Graphische Sammlung.
The tailor-made lighting concept creates a cosy atmosphere in the rooms of the museum that features works from classic modernism by artists like Nolde, Heckel, Schmidt-Rottluff and Kirchner. These are also known by the name "Die Brücke" (the bridge). Furthermore, there are contemporary works by Beuys and Warhol. Besides the permanent exhibitions, many changing presentations from the fields of modernism, contemporary applied arts and architecture are shown in the Pinakothek der Moderne in Munich.
Apart from works by Pablo Picasso, the painting "Tirol" by Franz Marc is one that should not be missed. Created in 1914 as part of the Blaue Reiter, it is a striking example for the works by the affiliation of artists around Macke, Marc, Kandinsky and Klee.
Another very interesting part of the exhibition of the Münchner Pinakothek der Moderne can be found in the basement of the museum building. Here, the everyday experiences of visitors are artistically implemented in a rather unexpected and extraordinary manner in what is called "Alltagsdesign" (everyday design). The collection encompasses roughly 6.000 partly very unusual objects and installations that range from chairs in the course of time over Snow White´s coffin to computational models.
Besides a great range of books, the museum shop also has design objects on offer. The café of the museum does not differ from the rest of the Pinakothek as its design is equally light, friendly and modern. The delicious and reasonably priced dishes on the menu of the small café in the internationally renowned Pinakothek der Moderne will make you want to stay for a while.